Affordable liability cover
Third Party Property Only
Casual driver? On a tight budget, but want some form of protection when you get behind the wheel? No matter what your circumstances, call us for a Third Party car insurance quote and we can talk you through what's covered in Youi's base-level policy.
START A QUOTE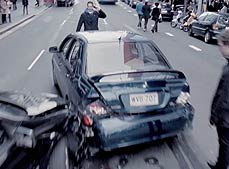 Legal Liability
We've got you covered to the tune of up to $20,000,000 for your legal liability if your car causes damage to someone else's property.
Dedicated Claims Advisor
Need to claim? It's as easy as calling us on 13 9684. We'll handle your claim with speed, efficiency compassion.
What you get
With Youi's Third Party Property car insurance, you're covered for up to $20 million in legal liability if you're in an accident and your car causes damage to someone else's property. Legal cases resulting from car accidents can be unpredictable and costly, so signing up for Third Party car insurance cover is protection you don't want to be without should the worst happen.
Add more protection
Maybe you'd like your cover to go a little further? We've got add-on options to boost your level of protection, depending on how you use your car. If you're a tradie, or carry any kind of work equipment in your vehicle, and it's damaged by an insured event or stolen, we'll replace it up to $1000 per claim. And if you have a trailer and want cover for that, just ask about our Unbraked Trailer add-on when you call us for your Third Party car insurance quote.
If you select this optional cover, your unbraked trailer will be covered for up to $2500 if it's damaged accidently or intentionally or as a result of Storm, Flood, Theft and Earthquake.
If your business items are stolen from a locked boot or lockable compartment, or damaged as a result of an insured event we've got you covered. We'll replace each item up to $200, with a maximum amount of $1000 per claim.
Protection you don't want to be without
At Youi, we get that everyone's unique, and that everyone's looking for car insurance cover that's reliable, no matter how or when you use your car. Comprehensive cover is sometimes out of reach, so we've created entry-level cover that you can count on if you cause damage to someone else's property. Also, if your car is damaged by an uninsured driver, you're covered for up to $5000 in repairs.
We also get that when an accident happens, no one wants to deal with a complicated claims process with their insurer, that's why we commit to providing you with a dedicated Claims Advisor that will take care of everything - no shuffling from person to person.
Call a Youi team member today on 13 9684 to find out more about how you can get insurance cover that's as unique as you are.
Youi, we get you.