The iconic 90's Christmas film Home Alone is about a lot of things: family; independence; resourcefulness; organisation; the importance of not relying on technology to wake you up before a flight.
But above all, it's about preventing theft.
The film follows Kevin's McCallister's dedication to protecting his home from a pair of goofy bandits after learning his family forgot to take him with them on a vacation to Paris.
Although he is a small, young boy of just 8 years, there's lots we can learn from Kevin's burglary prevention scheme, especially around the holidays when there's a heightened risk of property theft.
In addition to not leaving your child behind on your way to the airport, here are 5 lessons Kevin taught us in Home Alone.
1. Throw a party
Nothing says "this house is occupied" like walls shaking, people moving and music blaring from all angles. You'll need several life-size cutouts of your favourite celebrities, plenty of string, an electric toy train and someone to orchestrate the whole thing, but it'll all be worth it in the end when the burglars scurry off in dismay.
2. Get to know your neighbours
Like Kevin, one of your neighbours could be a community hero named Old Man Marley who takes down burglars while salting the streets, simultaneously preventing both theft and car collisions. That's why it's so important to build good relationships with your neighbours so they can keep an eye on your house while you're away. If they're a true sport like Old Man Marley, they may even personally ward off thieves for you.
3. Create a burglary prevention plan
Hopefully you'll never have to use it, but it couldn't hurt to develop a plan of attack for what to do if robbers enter your house. While Kevin's "Operation Ho Ho Ho" is focused on trapping the robbers, we suggest yours includes a safe place to hide where you can call the police and wait for their arrival.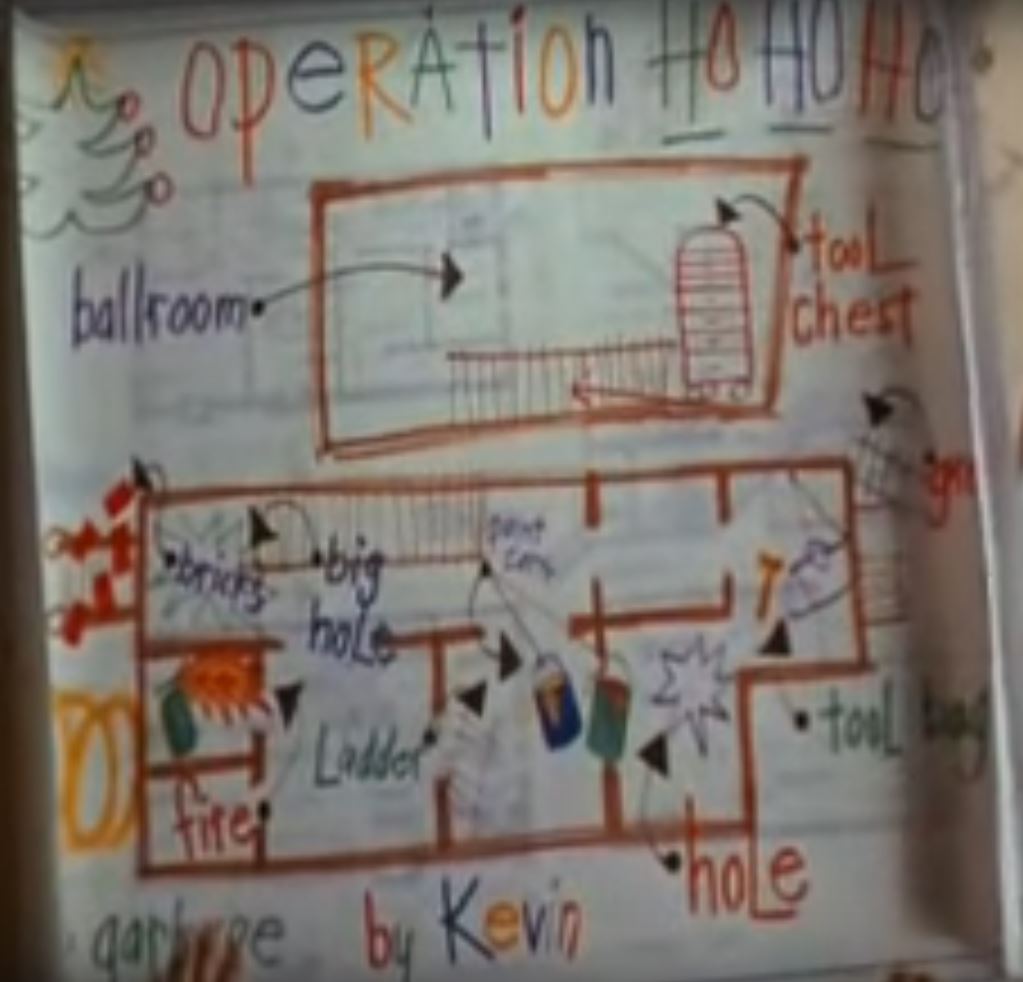 Source: YouTube
4. Let a TV show do the talking
An audible television set can create the illusion that someone is home watching television, or, if you play your cards right, it can also sound like people are in your house talking. Either way, thieves will think twice about entertaining a home that sounds occupied which makes this idea a real winner.
If Kevin's choice of film is too violent for your liking, might we suggest Gilmore Girls? With the constant talking, a potential robber is sure to think there's a conversation going on inside.
5. Keep Calm & Kevin On
As hard as it would be not to freak out when a burglar's in your home, Kevin's cool demeanor is proof that it pays to stay calm in stressful situations. Had Kevin allowed himself to be taken over with emotion after his family mistakenly left him behind, he may have struggled to create such a well-thought out plan to deter the thieves.
Now that you hopefully have a newfound appreciation for little Kevin and his theft-deterring ways, we hope you enjoy watching Home Alone even more-so than usual this Christmas.
From all of us at Youi, happy holidays!