There are many ways to buy a car these days, and it seems like just as many ways to get ripped off. Car sales scams are rife, and cost Australians more than $2.8 million in 2022;1 just a fraction of the $45 million lost to scam buyers and sellers that same year.2
Private sales of second hand vehicles are full of traps for the unwary – and that goes for buyers and sellers – particularly if you're negotiating the sale online through a website such as Facebook Marketplace, Autotrader, Carsales, CarsGuide or Gumtree.3
According to the Australian Competition & Consumer Commission (ACCC), the National Anti-Scam Centre, Scamwatch, received 761 reports about second hand vehicle scams between 1 January and 31 July 2023, with financial losses of just under $1.1 million.1 In an alarming twist, police are also reporting a rise in assaults and burglaries in Australia following online marketplace interactions.4
While we all like to think we're savvy enough to spot a scammer, they're constantly updating their approach to stay ahead of the authorities and their targets. So if you're looking at buying a second hand car, it's worth being aware of some of the main scams Australians are falling prey to.
What used car sale scams should you be watching out for?
There are two main types of second hand vehicle scammers you need to be wary of: fake sellers and fake buyers, both of whom are trying to extract money by fraud during private sales. To avoid being tricked into parting with your hard-earned cash, look out for these scams.
1. Online car sales scams: Fake buyers
Fake buyers often claim to be living interstate and offer to arrange a bank transfer plus transport of the vehicle. They then ask the seller to chip in and pay the courier or insurance for the transport, to be reimbursed in the payment for the vehicle. Once the seller pays – to a third-party bank account which is actually the scammer – all communication stops.
When Sydney businessman Aaron Cowper advertised his three-year-old Tesla on carsales.com.au, he was emailed by a prospective buyer called Rosemary who said she couldn't inspect the car in person as she worked on a remote mine site in Western Australia. Rosemary said she was "cool with the condition [of the car] described in the advert".
As many of the scammers do, the 'buyer' claimed to have "terrible reception" and no access to phone lines, and offered to pay through PayPal or by direct debit to Cowper's bank account.
She then wrote, "I have also contacted my courier who will come to pick up and deliver it to my place in Beaconsfield WA after the whole fund has been cleared into your acct."
Aaron was suspicious. "I thought it was very odd that someone would buy a car for around $50,000 sight-unseen and also request to pay via PayPal, not to mention that it is an electric car so would be difficult to charge at a remote mine site, which is where they claimed to live," he said.
As the founder and director of a competitive intelligence software platform, Cowper considers himself tech-savvy, "which is perhaps why this stood out as an obvious scam", he says.
Cowper asked for ID and the buyer provided a Western Australian driver's licence, but after checking with the WA ScamNet site and finding multiple reports of identical scams he was sure it was an attempt to defraud him.5 When he told "Rosemary" that she would have to pay any freight costs for the car herself, the communication ceased – but not before Cowper had reported the case to Scamwatch.
2. Online car sales scams: Fake sellers
Fake sellers, who account for around 70% of used car sales scams,1 will advertise vehicles they do not own, often at a price that sounds too good to miss.6 These 'sellers' often won't be available to meet prospective buyers in person, or to present their car for inspection. They use pressure tactics to persuade victims to send money via bank transfer or fake websites, then, of course, never deliver the vehicle.
"If the seller claims to be unavailable and insists on payment before meeting the buyer or allowing them to pick up their new car, this should raise suspicions," says ACCC Deputy Chair Catriona Lowe.
"It is relatively common for scammers to claim that they are travelling or moving away to avoid meeting buyers before payment. Always try to inspect the vehicle before purchase and avoid unusual payment methods. If you have any doubts, do not go ahead with the deal," says Lowe.
3. The 'defence force' scam
Similar to the remote FIFO worker scenario is the scammer who claims to be a member of the defence force and keen to sell their vehicle before deployment overseas. This creates a sense of urgency and helps explain the often unusually low price being asked, or why buyers can't inspect the vehicle before paying.
In 2021, Scamwatch reported that in 97% of car sales scam reports, the scammer claimed to be in the navy, army or air force or to work for the Department of Defence, using fake emails such as @airforce-raaf.org, @royal-australian-defence-gov.com or defence@royal-australian-air-force-gov-au.com.3
Scamwatch warns, however, that even use of the legitimate Defence email format may be a scam, as scammers are able to spoof email addresses, and that it's wise to look for all warning signs, including a price that is too good to be true.
4. Payment through third-party websites
Vehicle scammers often seek payment via a third-party website, for example PayPal or PayID. Australians lost more than $260,000 through PayID scams in 2022, with fake buyers claiming that the seller's PayID account needs to be 'upgraded' via an additional payment. Any money transferred then instantly disappears.7
Scammers will then create text messages and emails that appear to be from PayID – all part of the deception. PayID's operator, Australian Payments Plus, has declared that they will never contact customers directly, or ask them to send money in order to receive money.8
5. Odometer tampering
When it comes to used car sales scams, it's the oldest trick in the book – with a high-tech twist. Authorities are reporting an escalation of odometer tampering, with WA's Commissioner for Consumer Protection reporting that computers in new cars may allow for the odometer to be replaced or re-programmed using fraudulent software.9
In New South Wales, NSW Fair Trading investigators found examples of more than 400,000km being shaved off an odometer in a 2012 Subaru XV, and a 2009 Toyota Hilux being reduced by about 280,000km.10
Buyers were advised to always conduct due diligence, to have the vehicle checked by a licensed repairer and to conduct a Personal Property Securities Register check or buy a vehicle history check.
What are some of the warning signs you are being targeted by a scammer?
Sometimes, instinct is all it takes to cast doubt on the sincerity of the prospective buyer or seller – but there are definitely red flags that should raise your suspicions that all is not as it should be.
One of the most common characteristics of scam buyers and sellers is that they're a bit too good to be true – often they won't want to haggle over the price of your car, but will offer the asking price without hesitation – and in some cases even offer to pay more. For example, Scamwatch noted a listing that advertised a car for nearly $10,000 below its market value to entice buyers looking for a bargain.3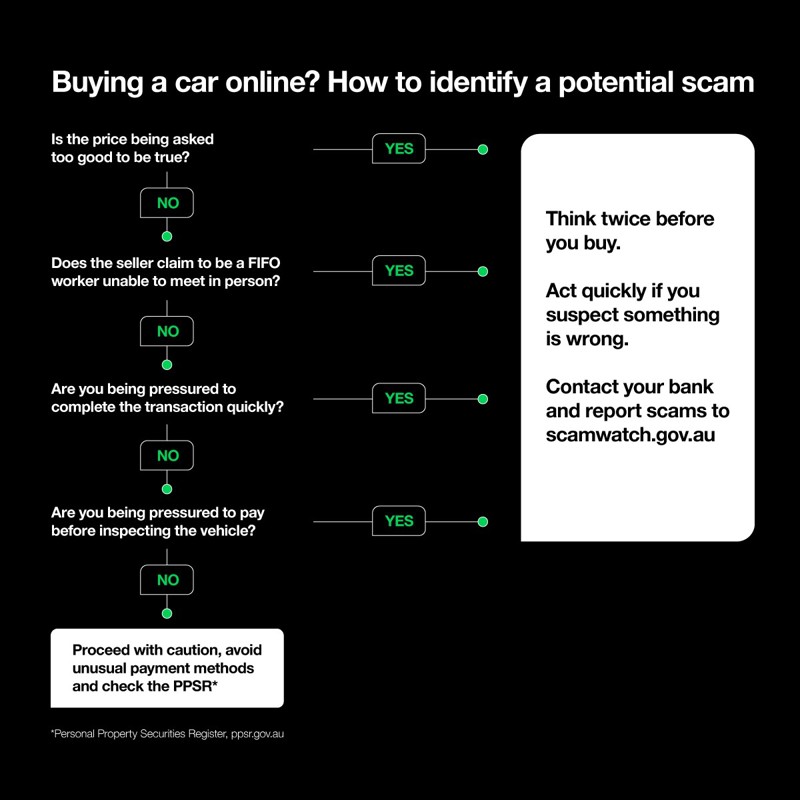 How can you help to protect yourself against used car sales scams?
Being wary is a good start to any negotiation with a prospective buyer or seller – do as many checks as you can to ensure the offer to buy or sell is legitimate. A few tips that might help protect you against scammers include:
Always try to deal locally when buying a vehicle. Ensure you're able to see the car in person, check the registration papers and service logs, and have it inspected by a professional. If they give you a street address, check on Google Street View what's actually at that address.
Do not sell or buy a car from someone who's unable or unwilling to meet you face to face or speak to you over the phone and who will only communicate by email or text. Call them to establish phone contact. If the advertised number is disconnected, be wary, and if the explanation is that they're overseas, ask for a number that you can reach them on there. Continued evasion should be enough to make you suspicious.
Never trust a seller or buyer who says the transaction is "guaranteed" by eBay, PayPal or any other online marketplace or platform. These sites do not guarantee that people using their services are legitimate.
Don't rush into paying, and beware of sellers or buyers who want to conclude a transaction as quickly as possible. Scammers want to get your money before you have time to have second thoughts or have a professional examine the deal.
If you're selling, wait until a cheque has been cleared by the bank before you transfer ownership or hand over the car. Similarly, verify with your bank, PayPal or other account that the money has been paid – don't take the buyer's word for it or accept 'receipts' at face value.
Think carefully before giving out any personal information that could be used for identity theft, such as your driver's licence.
Don't panic, but act quickly when you suspect something is wrong. Contact your bank and report scams to Scamwatch.
Take a look at our tips on what to check for before buying a second hand car. Once you've found and purchased a used car from a reputable seller, consider if you need car insurance before you collect the vehicle. Youi's range of car insurance options could provide exactly what you need.
Article by guest writer Lee Mylne
1 Information provided by Australian Competition & Consumer Commission (ACCC), 14 August 2023.
2 Source: Scamwatch – Scam statistics
3 Source: Australian Competition & Consumer Commission – Losses to car ad scams climbing, 2021
4 Source: ABC News – Police report rise in online marketplace attacks after Brisbane home invasion, 2023
5 Source: WA ScamNet – Online car sales scam (fake buyer)
6 Source: WA ScamNet – Online car sales scam (fake seller)
7 Source: The Conversation – "My brother will pick it up, what's your PayID?" How to avoid this scam when selling stuff online, August, 2023
8 Source: Australian Payments Plus – Stay scam safe, use PayID
9 Source: WA Government – Commissioner's blog: How to spot a car with odometer tampering
10 Source: NSW Government – Car buyers warned of surge in odometer tampering