Brisbane, Toowoomba and the Gold Coast
Australia's Sunshine State has long held a reputation for being 'beautiful one day, perfect the next'. But lately, big changes have been underway in Queensland. Sure, the classic attractions are still there, but Australia's northernmost state has also been experiencing a population boom in recent years, with the number of residents reaching the five million mark in May 2018. This growth has given the state a great new vibe, making a road trip through it a must.
In part 1 of our Queensland road trip guide, we explore some of the more popular and better-known towns and cities across the state.
Brisbane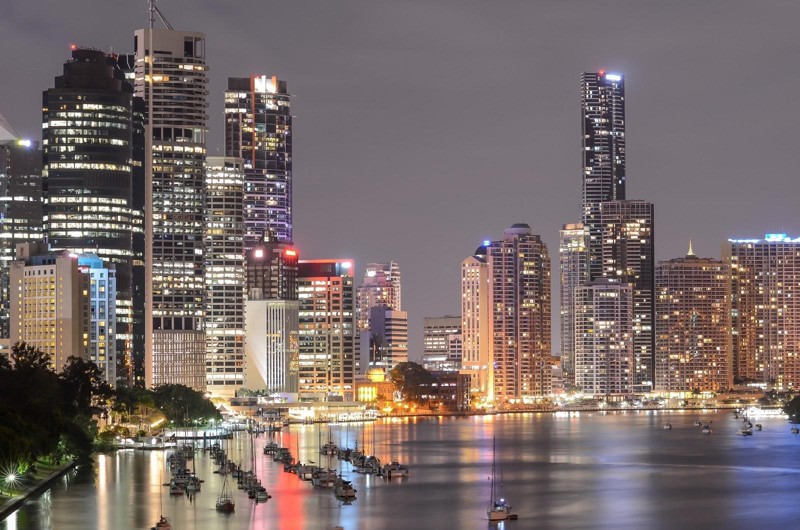 The Gold Coast is one of the world's greatest cities by the sea, and boasts fantastic rivers too.
Statistics show that the majority of Aussies live in capital cities. This means for Queenslanders, going on a road trip usually means heading out of the Big Smoke. But for those who live in a provincial Queensland city or rural location, a trip to the capital can be an outstanding choice.
On arrival, there's no better place to start than the beautiful Streets Beach, at South Bank across the Brisbane River from the CBD. Here you can swim in the lagoon or laze on the sand, then afterwards explore the gorgeous surrounding parklands. There are plenty of great eateries nearby – from the casual to the classy – including Bacchus. With its contemporary imagining of Australian cuisine, it's always a favourite.
To Queenslanders, Suncorp Stadium is the home of football. Many games are played here throughout the year – from the Brisbane Broncos in the NRL and the Queensland Reds in the Super Rugby to the Brisbane Roar in the A-League. Should the stars align and you're able to plan your road trip while a State of Origin match between Queensland and New South Wales is on, try to get a ticket and enjoy the excitement and the rivalry of this once-in-a-lifetime experience.
For those who welcome the chance to get away from the crowds and take in the city from its best angles, a trip to Kangaroo Point lookout is a must. As well as a beautiful boardwalk for a slow stroll, there's also a dedicated bike lane for anyone who wants to dedicate some time on their road trip to two wheels, as well as four.
Toowoomba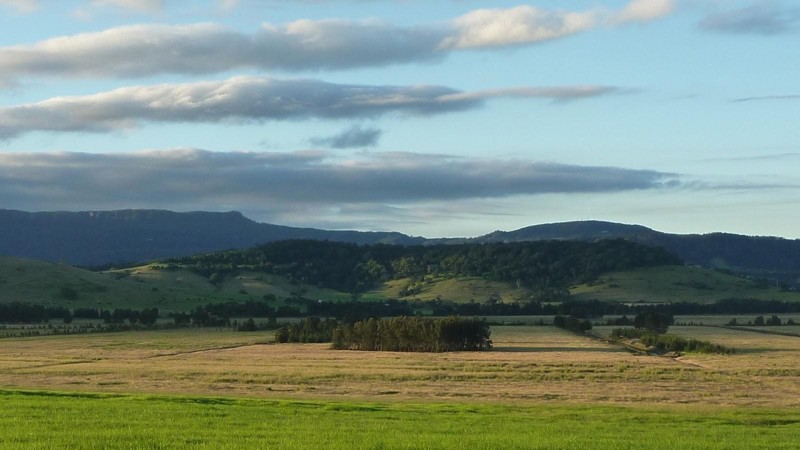 Arriving into Toowoomba via its gorgeous countryside is an unforgettable experience.
Within the beautiful Darling Downs region is the provincial city of Toowoomba. With a population of approximately 118,000 'The Garden City' as it's known offers a tremendous mix of big city excitement and that small town country feel that will make every moment you spend here special.
Catching a performance put on by the University of Southern QLD is a fantastic place to start on arrival. In addition to hosting a number of independent films and classical plays, the University's twilight music performances are especially great, given the beauty of the campus and its surrounds.
For mega music fans still longing for more, Toowoomba also plays host to a number of fantastic music festivals like the CMC Rocks music festival. And if, on arrival, you're fresh out of the car and looking to partake in horsepower of a different kind, a visit to Cowboy Up Horse Riding is a beautiful way to spend an afternoon. This working cattle property allows you to hitch a saddle on one of their horses, and go for a ride on a guided tour throughout their acreage.
The Gold Coast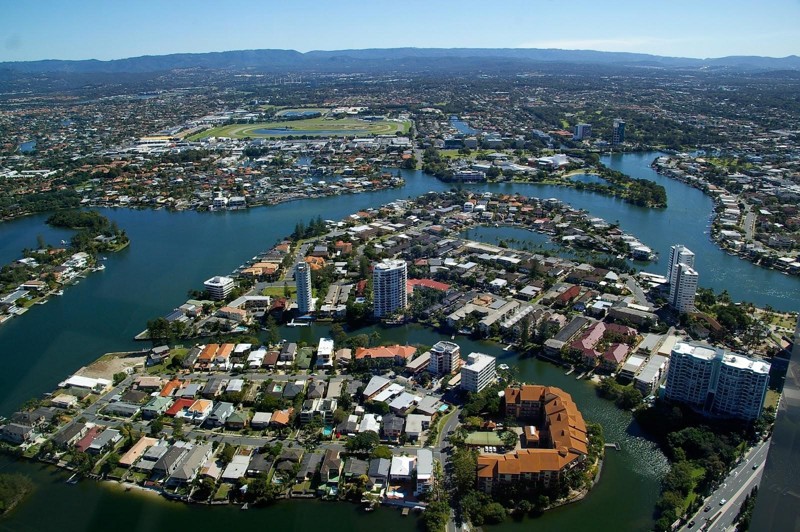 The Gold Coast is one of the world's greatest cities by the sea, and boasts fantastic rivers too.
The Gold Coast embodies so much of what makes Australia a fantastic place to holiday. It has sea, sand and sunshine. It has a fun, easygoing vibe and is proud to celebrate its identity as a tourist drawcard. And alongside world-class beaches for swimming and surfing, there's an abundance of waterways to boat, fish and explore once you arrive.
Theme parks are always a popular Gold Coast attraction, and with Movieworld, Seaworld, Wet 'n' Wild, and more, it's easy to understand why. Even if you've been to these theme parks before as a kid, it's always worth another visit. Especially if you now have kids of your own coming along on the road trip, these beloved theme parks will not only bring back rich memories, they'll also delight you with the many upgrades and new attractions added in recent years.
And though the Gold Coast has always been a great place to visit, right now especially it has a new lease on life. Being awarded hosting rights to the 2018 Commonwealth Games saw many upgrades made across the city. As well as major improvements to its roads, the addition of many new sports facilities like the Gold Coast Aquatic Centre, the Coomera Indoor Sports Centre and Nerang Mountain Bike Trails makes the trip here a highlight for any sports fanatic.
Explore more guides
So that's part 1 of our Queensland road trip guide. Now read part 2 to see what Cairns, Coolangatta and the Daintree Rainforest have to offer.
Queensland is sensational, but it's not the only state in Australia that can deliver you an unforgettable road trip. Take a look at our state-by-state guide for Victoria, South Australia, Western Australia, New South Wales and Tasmania.
Plus, don't forget to check out our ultimate Australian road trip guide. For anyone who is going on a road trip for the first time (or is perhaps a veteran but just keen on some extra tips and advice), it's a must-read before you hit the open road.
Enjoy all Queensland has to offer!