As the only Australian state not on the mainland, Tasmania today holds a unique identity that's a rich mix of history, natural beauty, and contemporary attractions. And if you're looking to plan a road trip that allows you to pack a whole tonne of fun into a short period of time, Tasmania is a perfect choice, with its beautiful cities, gorgeous lakes, charming villages, and stunning hikes. The Apple Isle may look small on the map, but it's the ideal place for an Aussie road trip.
In addition to its pristine wilderness and friendly locals, a road trip through Tasmania is an absolute delight for foodies and arts and culture fans. With world-famous food and beverages made on the island, it's never difficult to grab a tasty bite for lunch or a couple of drinks to accompany dinner. And with its marvellous galleries and museums, anyone who adores whiling away a quiet afternoon amongst beautiful artwork will love all that Tasmania has to offer.
In part 1 of our Tasmania road trip guide, we explore some of the island's most stunning sites.
Cradle Mountain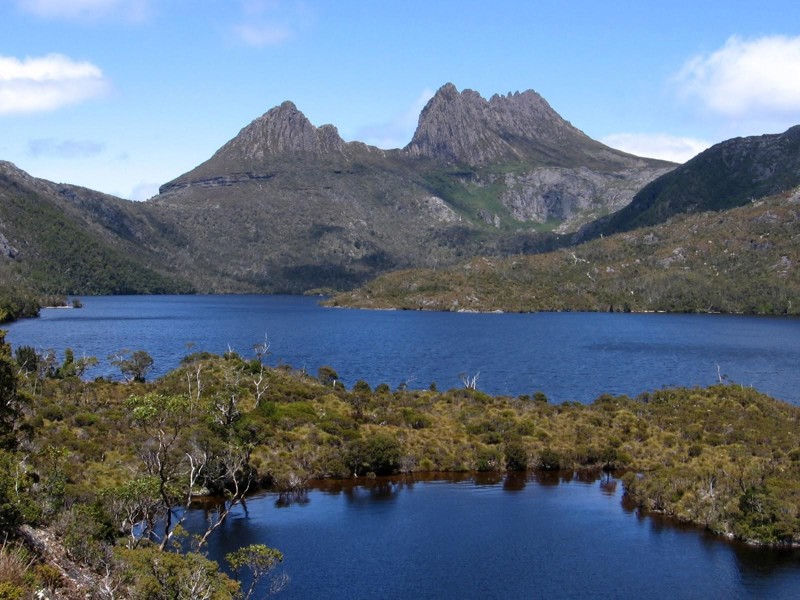 Cradle Mountain's soaring peaks and lush surrounds provide a stunning view.
It's not just the amazing beauty that makes Tasmania's natural wonders so special, but the fact that, even today, so much of the island is rarely visited or explored. Although Australia isn't lacking for incredible road trip destinations, the huge popularity of some attractions can make them difficult to take it in and enjoy.
That's why a trek through Cradle Mountain can be a perfect choice for nature lovers. While this site shows off the scenery that makes Tasmania so special, it also offers a number of supporting amenities to ensure you get the most out of your trip. Want the best of both worlds? Hike here by day and stay at Cradle Mountain by night.
And for an extra bit of fun, be sure to keep an eye out for the Tasmanian Tiger as you go through the high country. While they're officially listed as extinct, the fact that so much of Tasmania's wilderness is untouched means they may still be out there.
Hobart to Launceston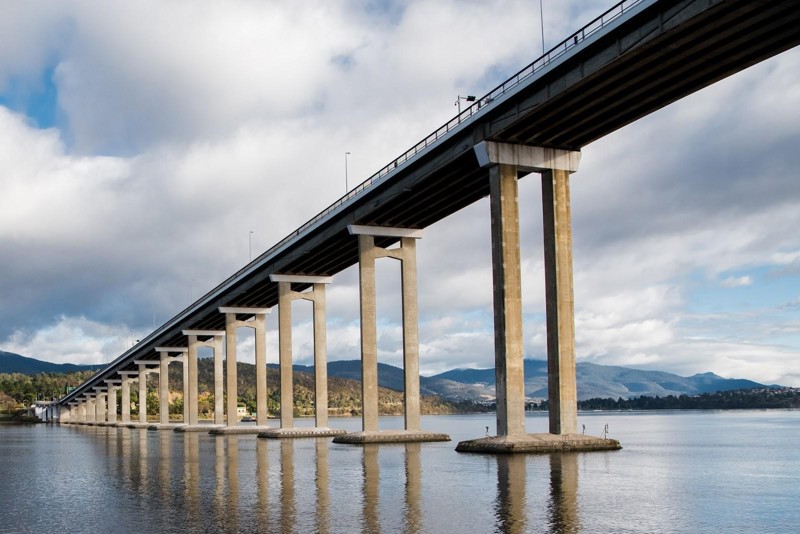 The journey between Tasmania's two biggest cities is scenic at every turn.
Tasmania's two biggest cities sit at opposite ends of the state. Both have different identities, and share a strong local rivalry that's always good fun. Because of the small size of the island and the distance between the two, it's easy to plan a road trip that goes from one city to the other while taking in other sights and attractions.
Doing so is a great way to prove that it really is the journey that counts, not the destination. The trip between the two cities isn't just one of Australia's best drives, but one of the greatest in the world.
Tasmania is one of those rare locales that makes it easy to head out of the city and into untouched nature that looks the same as it did thousands of years ago. And for those who love a few pit stops along the way, doing a road trip through Tassie means you'll never be too far from a quaint village or coastal town.
The trip between Hobart and Launceston takes around two and a half hours. But it can take much longer if you decide to visit great spots like the Wicked Cheese Company, Furneaux Restaurant & Comptoix, The Iron House Brewery, and so many more as you sample the very best of Tasmanian cuisine. If you're lucky enough to have a road trip planned with some time to spare, take off your watch, turn up the radio, and just enjoy ambling along on the drive between the two cities.
Explore more guides
So that's part 1 of our Tasmania road trip guide. Now read part 2 to see what the Tasmanian Museum and Art Gallery, and the Spirit of Tasmania have to offer.
Tasmania is sensational, but it's not the only state in Australia that can deliver you an unforgettable road trip. Take a look at our state-by-state guides for Victoria, South Australia, Western Australia, New South Wales and Queensland.
Plus, don't forget to check out our ultimate Australian road trip guide. For anyone who is going on a road trip for the first time (or is perhaps a veteran but just keen on some extra tips and advice), it's a must-read before you hit the open road.
Enjoy all Tasmania has to offer!