Kicking off a road trip with a caravan along for the ride is a great Australian tradition — before the pandemic, caravan trips exceeded 13 million in the 12-month period ending June 2019. While an incident is unlikely, they can and do happen unexpectedly. But just because you can't anticipate a breakdown, doesn't mean you can't be prepared for one.
Having a plan in place before hitting the open road makes it possible to deal with incidents quickly and effectively, if they occur. Here's what to keep in mind if you run into problems with your caravan.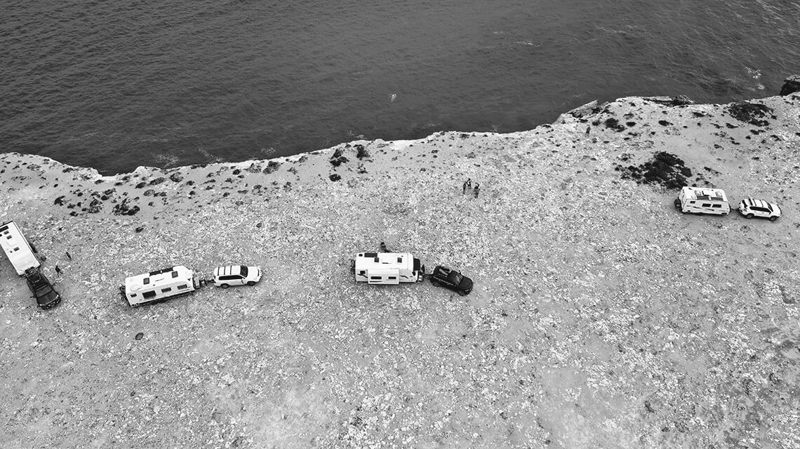 Match your response to the incident
Nobody wants to experience a breakdown while out on the road. But how you respond in the moment can make a difference to how things turn out. Some incidents may be fairly minor, which will require a minimal response. If the incident is more serious, it's important that your response matches it.
Use the following series of checks after an incident to make sure you cover all your bases:
1. Stay calm. Ensure everyone is safe.
If the caravan (or the vehicle towing it) sustains damage while out on the open road, your first priority should be to check on the health and well-being of the people in your travelling party, as well as any others who may be around the scene. If anyone is injured or unwell, call for emergency assistance.
Help keep everyone calm — especially if you're travelling with kids. Provided there is no major hazard that requires an immediate call to emergency assistance — such as a fire or health issue — taking a few minutes to calm down or take a few deep breaths can help everyone get through the incident more comfortably and efficiently.
2. Document any damage. Photos are key.
If the caravan's breakdown has caused damage to another person's property, it's essential that you take photos to document the damage as it appeared immediately after the event. Take photos of your convoy too, as these could be useful to send on when seeking roadside assistance, and will be important later if you'll need to make an insurance claim.
3. Call roadside assistance.
As you're documenting the damage, call your roadside assistance provider (or have a member of your party do so, if possible). Check as to whether you're covered for caravan towing or not. Some caravan cover upgrades will include a tow in them, so it's wise to confirm when you call (if you didn't review your policy before setting off on your trip).
Now is also a good time to take stock of your emergency supplies — knowing exactly how much fuel, water, or oil (among other resources) you have on hand could be important when it comes to resolving the breakdown.
4. Stay with your vehicle.
Leaving your vehicle in the event of a breakdown is a common mistake, and can be a very dangerous decision. The smartest move is to put your hazard lights on and remain with your vehicle while you wait for help to arrive. The only exception is if you've broken down in a place where it may be unsafe to remain with your caravan, such as if it's stuck in a ditch.
If this type of thing occurs, keeping a safe distance while remaining close to your vehicles — so that any help that comes along will see you're there and in need of some assistance — is usually the best course of action.
5. Isolate electronics, if safe.
To prevent any further damage, make sure auxiliary power is isolated from the towing vehicle. This minimises any further risks associated with power issues.
Following these 5 steps, you can help ensure that you and your family are safe while travelling.
Pre-trip: check you have the right insurance for your caravan
A caravan breakdown can happen anywhere, anytime. Before hitting the road, one of the most important things you can do is ensure you have adequate cover.
Insurance options for caravans are similar to those that are available for cars; however, there are a few differences. It's important to look into all of your options, so that you don't head out on the road thinking you've got the coverage you need when you don't. Here are the insurance policies available for caravans:
Third Party Property Only.
It's not a legal requirement to have third party property insurance on a caravan. However, many caravan owners feel it's important to take out a policy to cover an incident if it occurs.
This type of policy would suit someone who wants cover against damage occurring to another vehicle or property, but who is comfortable being responsible for any damage sustained to their own caravan.
Third Party Fire and Theft.
Driving on remote roads may increase the risk of suffering a substantial loss if an incident does occur — for example, if a fire breaks out in a remote area, it will almost always take emergency services longer to respond. A policy that guards against fire and theft may be worth considering if you expect to travel in these areas frequently.
Comprehensive Caravan Insurance.
A comprehensive policy is a good choice for many caravan owners. It not only covers the same incidents as a Third Party Fire and Theft policy, it also provides protection against a number of additional incidents, such as accidental damage, and storm or flood damage.
Additional benefits of caravan coverage.
Although a comprehensive policy will cover numerous incidents, there are optional extras that are always worth considering. As an example, coverage against the cost of repairing or replacing an electric motor after burnout up to $1,000 (after excess) is a popular optional extra.
In addition, coverage against the loss of any business items stored in the caravan or trailer can be good to have for anyone intending to combine business and pleasure while heading out on a road trip.
The caravan checklist
Bringing a caravan along for a road trip requires some extra prior planning. Take the time to ensure you're good to go with your tow once you start your trip, but also that you're prepared to respond if something goes wrong.
Before you begin your journey, make sure you've got the insurance cover you need — and that your policy is up to date. After that, you'll be ready to grab the keys, start the engine, and head out on an unforgettable journey!
Need more help understanding the caravan insurance options available to you? Reach out to Youi, and our friendly team of insurance specialists can help you make sense of your options.
IInformation provided in this article is general advice only and has been prepared without taking into account any person's objectives, financial situation or needs. Youi Car Insurance and Caravan & Trailer Insurance is subject to limitations and exclusions. For full policy inclusions and exclusions, please consider the product disclosure statement at www.youi.com.au to decide if the product is appropriate for you.