When a huge hailstorm hit Michael and Saffron's home, things went from calm to carnage in a matter of minutes. Gigantic hailstones destroying roof tiles. Water inundation. Collapsed ceilings. Missing pets.
Once the worst had passed, they called Youi to get things sorted. A make-safe was organised and the claims process was underway. We got onto Michael and Saffron's claim and got them and their home back to normal as quickly as possible.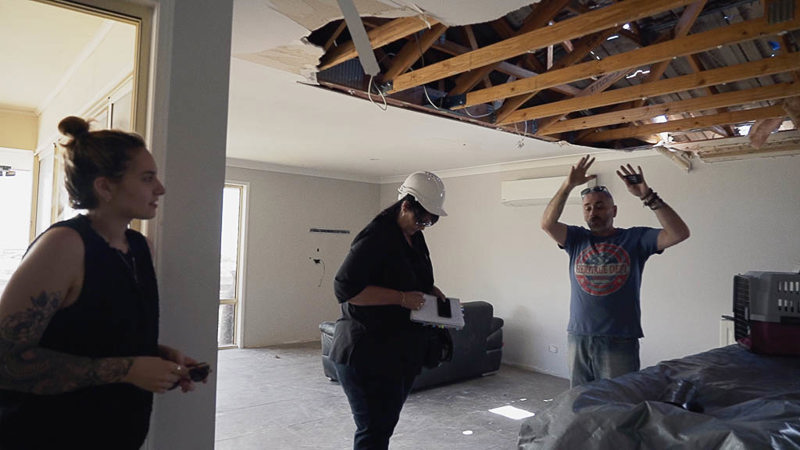 SEEING DAYLIGHT THROUGH THE CEILING.
It was a normal Saturday afternoon at Michael and Saffron's place. Relaxing with their dogs and cats. Enjoying a cup of coffee on the couch, watching a bit of TV while working out their plans for the weekend. Then they sensed something.
The sky started to turn an ominous shade of grey. Then black. They'd been warned that it might storm, but nothing like the extreme conditions that eventuated. "It was surreal because originally, there was gonna be no hailstorm," said Michael.
What started as a couple of small hailstones quickly turned into complete chaos. "Within 10 seconds, it was open season. It was Armageddon. There were hailstones the size of baseballs coming down."
The hail was so powerful that it punched straight through the roof tiles, then the plasterboard beneath, letting the daylight stream in. Windows were smashed and water was coming through.
When they knew the storm was over and everyone was safe, Michael and Saffron called Youi for help. The first step was organising the make-safe; getting the roof tarped up.
The next was to get their claim in the system. Youi claims advisor Bryannon made it happen, explaining the steps towards getting their home insurance claim sorted.
She also organised temporary accommodation for Michael and Saffron as they could no longer live in their home due to the destruction. An assessment of the damage was scheduled and, within days, Youi claims assessor Nicole was on the scene reviewing the damage. Authorisation came through fast, quickly followed by builders' quotes and timeframes.
Over the weeks that passed, the roof was replaced and the internals repaired. Michael stayed up to date using the Youi Claims Tracker, and via regular calls and messages from Bryannon and Nicole as things progressed.
Now resettled in their home, Michael and Saffron are glad to have their house and their life back. While it's not something they want to go through again anytime soon, they're glad they were with Youi to get their insurance claim sorted.
"Right from the get-go, all the way to the finish, Youi just guided us through everything. It feels good to have the home back again."