Veteran referee Ben Cummins loves rugby league – the plays, the tackles, the courage shown by the players, and the big moments.
"It's a game that gives year after year… I love those moments," he says.
As one of a select group of referees who've experienced the noise and intensity of a grand final, he confirms that being a referee in a big game is truly the best seat in the house. "You're right there… I'm part of something I love."
Ben got into refereeing through his mother, who was a police officer in Canberra. Her sergeant needed referees from the district, and Ben was keen to earn some extra pocket money. "I'd started watching rugby league and enjoyed it. I thought I'd give it a go," he explains.
"Like any other fan, I critiqued the referees at the time. I thought I could do a good job and that's where it started. Cold Canberra mornings at $13 a game is where I started," he adds.
Referees set out to do a good job
Despite his obvious passion and love for the game, the fallout from his mistaken call in the 2019 NRL Grand Final sent Ben into "dark times". With scores locked at 8-8 in the decider between the Canberra Raiders and the Sydney Roosters, Ben called "six again" after a Raiders kick came off one of their own players.
Despite correcting his call, Sydney capitalised on his initial error to score and take the lead and the final. "I knew I'd stuffed up and I tried to correct the call," he explains. "I realised that this is big, that in the grand final it probably doesn't get much bigger than this."
"I got through the rest of the game and afterwards it dawned on me that I wasn't enjoying the celebrations and photos and I realised I'd stuffed up big time. After enjoying the moment with my family and the other referees, I walked into the tunnel and the cameras were all on me. I was thinking 'this is not normal' and my heart sunk even further."
A self-confessed perfectionist in many aspects of his life, Ben admits that the ramifications of his mistake were hard to accept. "I think most referees are perfectionists," he explains. "We want to go out, do a good job on the field, be part of the spectacle of rugby league, and contribute to a good game of footy.
"I realised that I hadn't done that, so it was disappointing, especially when you put so much effort and time into getting that perfect game," he adds.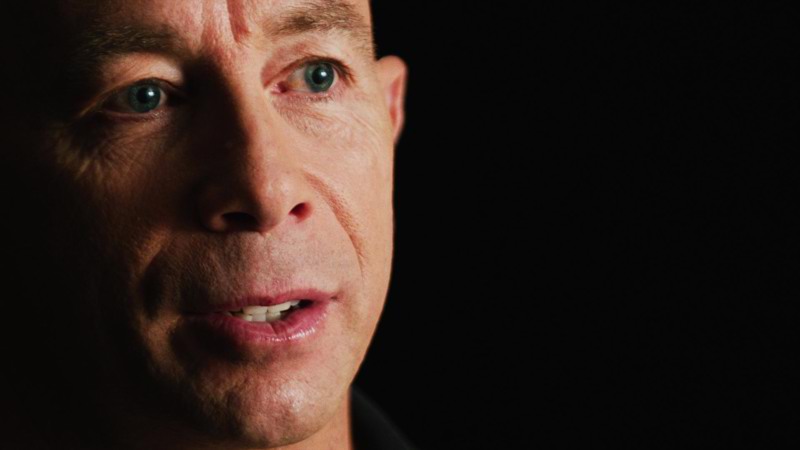 'Dark times' followed the call
Ben acknowledges that when he signed up to referee at the top level, he knew the role came with passionate fans. "People can say things about your performance but when it brings in your family and your home, it's a different level and I found that really hard.
"I was just looking inward at the time, thinking 'I've just stuffed up'. It was all about what I'd done but I hadn't really thought about how it affected my family," he says.
In the aftermath of his mistaken call, Ben not only received abuse – including the publishing of his home address – but so did his son and daughters, which he found very difficult. "I basically locked myself in my house for a week," he says.
"It was pretty dark times. I didn't want to talk to anyone about it. I had some thoughts about what I wanted to do with my life, and they were pretty negative," he says. "You feel ashamed and worthless, embarrassed. I wasn't sleeping. I just wanted everything to go away."
Taking the initiative, Ben decided to spend some time away in Papua New Guinea with his son. He'd been there 20 years previously with his wife, doing cultural development with the Catholic church, and always wanted to return.
"I would've liked to take my whole family, but I just took Patrick. He was copping a lot at school at the time, so I thought I'd take him away to a place where we didn't have to go through all the stuff back at home," he explains.
"It was a great trip and he got to see a place that was close to my heart. And people were forgiving. They were inquisitive about the grand final because they love rugby league, so I needed to explain it to them. But there was just no criticism, no negativity, it was a really worthwhile trip."
Time heals
Now that he's back officiating, Ben says that time heals and there have been a lot of positives to come from the experience. One of those positives was when he gave his first interview to the Sydney Morning Herald after that fateful call. "I was reluctant to do it at first, but I expressed how I was feeling. It was quite emotional, but talking about it made it a lot better," he says.
"The article gave people an understanding of what we go through and the demands and pressures of refereeing. It won't change everyone's attitudes towards us but the insights from that article really helped.
"I think people are more understanding now of refereeing and that we do make mistakes, but they have to move on from it. We don't like making mistakes ourselves, but the game must go on. It's just part of the game," he adds.
Another positive is that the NRL has since made a concerted effort to look at the welfare of referees, who now have access to professional counsellors and sports psychologists.
Ben explains that he's learned resilience through his experience. "Resilience is not something we're explicitly taught as we grow up… it's something you have to experience when you go through bad times.
"It has taught me coping strategies and about realising there are people in and around your life that care for you and love you. Another is talking to people. Don't just keep it within. Go and talk to people, whether they're specialists or peers. Just talk to them and you'll learn something about the situation and yourself."
Ben adds that perspective is also important. "Put what happens in perspective. It's not the be all and end all," he says.
If you, or someone you know is experiencing a personal crisis, you can access support through Lifeline's 24-hour hotline on 13 11 14.